Oak City Swim School runs 30 minute classes with 4 to 1 student to instructor ratios to keep students engaged. Our classes start with water safety skills to ensure students know how to self and peer-rescue.
Choosing the right class
Our classes are segmented by age and skill level to keep everyone in groups they will be comfortable with and ready for. Follow the steps below and you'll probably be able to see what class is right.
First, select the appropriate age range below.
Then read through each of the levels entering abilities and goals and find your level.
Finally, find a class that fits your schedule! You can register online or call us!
We've tried several different swim programs, Oak City is the best. Our kids made so much progress in just the first few weeks I realized how much money I wasted elsewhere. Classes are small, staff are well trained and professional. We've decided to stay and swim year round since the water is so warm and frankly, the kids love it!

Lydia M.
Registering for classes:
Rolling enrollment: classes are ongoing and you may start your classes at any time that we have an opening that fits your schedule.
2-week hold limit: Our students gradually move up levels as they improve, meaning the availability of different classes changes. To keep our lessons open to our upward-moving students, we can only hold spots for 2 weeks for future students.
Hop on a waitlist: Did you find a "waitlisted" class that works best for you? Enroll in the waitlist! It's the best way to get into a class at the time you'd like! Also, it helps us learn what types of classes that have greater needs so that we can build schedules accordingly! Call us and we can give you the estimated wait time.
Make sure you get the confirmation! No spaces are guaranteed until you are registered with a confirmation email or talk with us on the phone.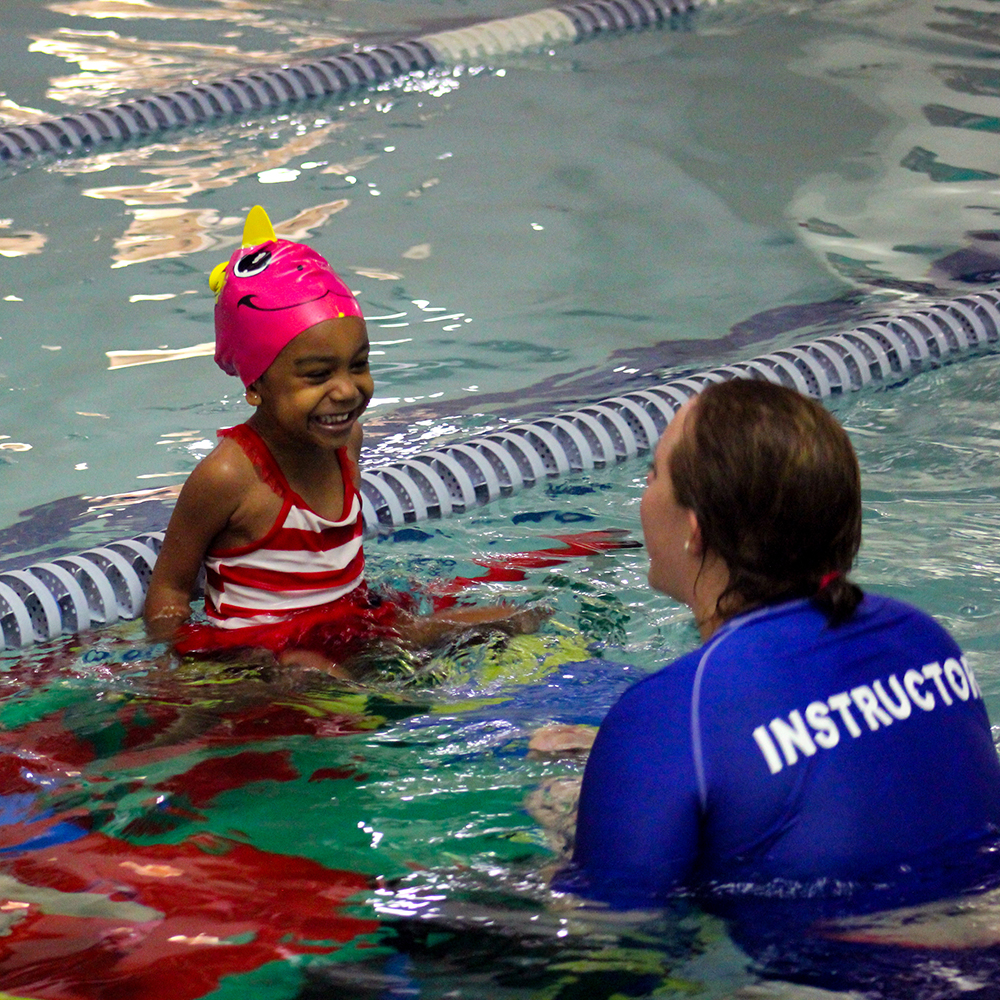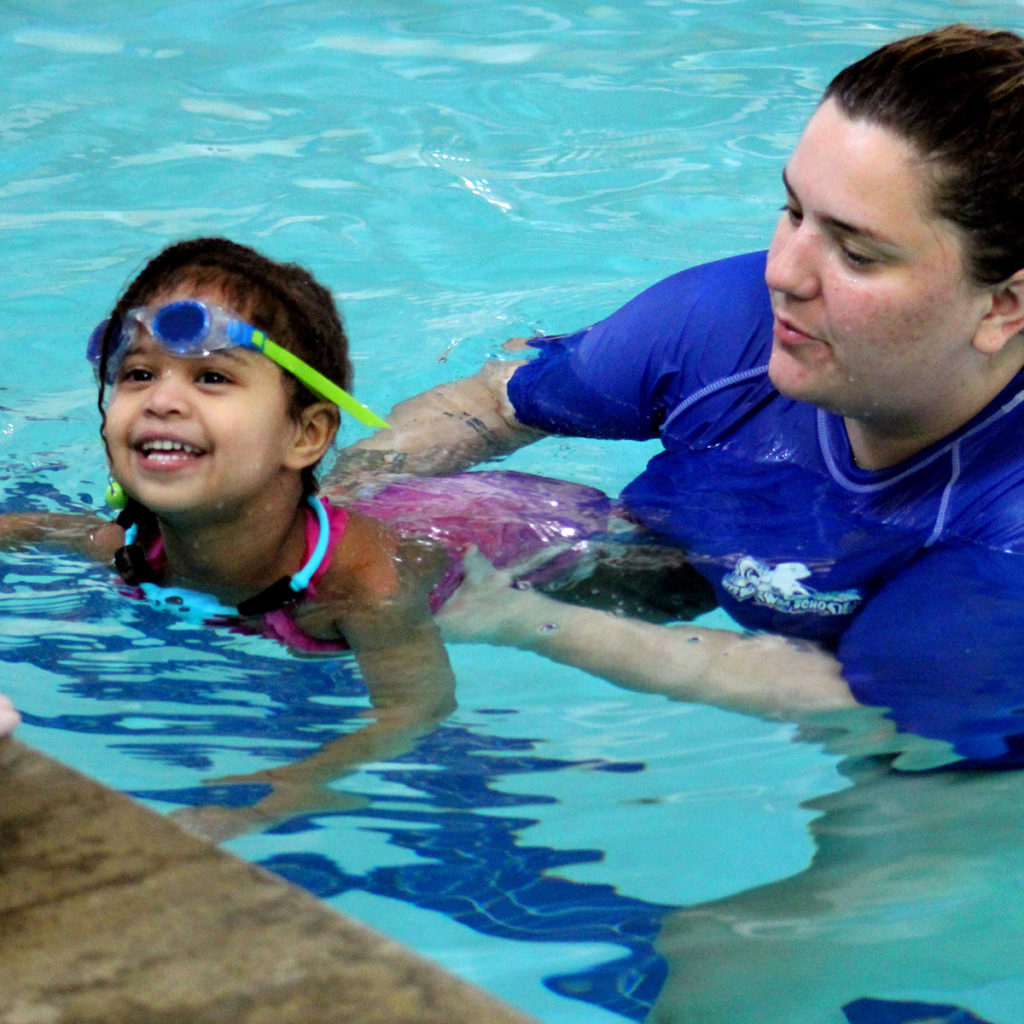 Group Tuition:
$109 per month for one lesson per week. You can enroll for more than one class per week if you'd like.
We offer sibling discounts.
$40 annual facility fee (APR) per student is due January 1 of each year. Multiple-student homes are capped at $60. We will pro-rate the APR for students joining in the second half of the year.
A 2-month commitment for a new family is required.
A 30 day written notice is due before withdrawing from lessons.
Make-ups: We offer unlimited make-ups (where we have room) instead of credits for missed classes. We understand families have several activities and try to work with you!
Interested in scholarships? Learn about our partnership with the Central North Carolina Swim Foundation and what they offer.
Age Ranges
Our classes range from 6 months through adulthood. Whether you never conquered your fear of the water as a child, or just want to get your tot off on a strong early step, we're here for you! Our parent and tot classes go from 6 months old to 2 years old. Then the independent lessons start at 18 months and onward!
Toddlers
Sea Otter
Ages: 6 months to 2 years
Also known as Parent and Tot classes. Instructors work with caretakers to help them teach children to be comfortable and happy in the water.
Find a class
Seahorse
Ages: 2 year olds
Students start by learning water comfort and basic water safety skills like floating and exits.
Find a class
Pre-School
Starfish
Ages: 3 year olds
Students are at their early stages of cognitive and coordination development and can begin to develop their swimming abilities.
Find a class
Jellyfish
Ages: 4 years to 5 years
Students are more developmentally coordinated and can began learning more water skills and advanced swimming.
Find a class
School Age
Manta Ray
Ages: 6 years to 12 years
Manta Ray is for beginning swimmers working up to swimming the length of the pool.
Find a class
Shark
Ages: 6 years to 12 years
Shark is for more advanced students working on perfecting strokes and furthering endurance.
Find a class
Teens
Ages: 13 years to 17 years
The teen groups are for students that either want to start swimming and conquer fears or become better swimmers.
Find a class
Adults
Ages: 18 and up
No one is too old to learn to swim! We work with adults who can't swim at all to adults wanting to perfect any stroke or endurance.
Find a class
Can't find what you're looking for?
Try looking at our private lessons to get exactly what you want.
Private Lessons