Starting lessons with us? Here are some answers to the most frequently asked questions. If you don't see your question answered, please contact us!
General
We are located at 3651 Bastion Lane, Raleigh NC 27604. Our phone number is: 919-255-1931 Email: [email protected]
We have a busy pool! We occasionally offer a free open swim for our swim families. This usually happens a few time per year, watch our newsletter for when we offer this.
We automatically bill for lessons on the first of every month and we bill the credit card on file.
Yes! For group lessons, you can schedule a make up lesson within 2 weeks of a missed lesson. For private lessons,  you can schedule one make up per quarter, after the initial 60 day commitment has been met.
We don't offer credits for vacation days missed.  For group lessons, you can schedule a make up lesson within 2 weeks of a missed lesson. For private lessons,  you can schedule one make up per quarter, after the initial 60 day commitment has been met.
Yes! All students 4 years of age and younger must wear a reusable swim diaper. Fecal contamination is rare, but when it does happen we have to close the pool for at least 24 hours. Please help us keep our teaching environment clean for everyone by complying with this rule.
We are a grounded pool. We monitor storms as they pass thru. We do close the pool for 20 minutes at a time when a storm is directly above us and we have thunder/lightning. We let our families know of closures via facebook, Instagram and email.
Maybe! We follow Wake County Schools ahead of storms for closing. We will reopen as conditions permit our staff and students to travel to the pool safely. We use facebook, Instagram and email to communicate these closures.
Goggles are helpful for students learning to swim once they are comfortable putting their face in the water and submerging under water. We want students to be comfortable with the water on their face before using goggles. Students should be able to put the goggles on/off on their own (with minimal help from instructor). Goggles are not a substitute for water comfort. Goggles are recommended for Manta Ray 3 level and above. Goggles are mandatory for Swim Team.  We do sell goggles at the swim office.
Yes! Private lessons are a great way to accelerate the learning process.  We offer private lessons 6 days per week. Private lessons are customized to meet your individual goals and your schedule.  Private lessons are also available for students who may have special needs/abilities.  Call the swim desk to speak with someone specifically for private lesson scheduling. 919-255-1931. Private lesson cost is $210/mo. for 1:1 and $145/student for 1:2/3 students.
COVID-19 Specific
According to the CDC, there is no evidence of the virus being able to spread in the water.
There is no evidence that the virus that causes COVID-19 can be spread to people through the water in pools, hot tubs, spas, or water play areas. Proper operation and maintenance (including disinfection with chlorine and bromine) of these facilities should inactivate the virus in the water.

CDC – Water and COVID-19 FAQs
While the virus cannot live in the pool, the pool water does not disinfect items placed into it.
For the non-porous toys, like duckies, we will be using a CDC approved wash during the early morning when families are not around. Toys will be provided to the swim instructors to use at the start of each class, then moved to the 'to-be-washed' bucket.
We try to limit the number of touch surfaces students and visitors interact with to the best of our abilities. We prop open doors to the bathrooms and to different rooms, hold open doors for swim students entering and exiting the pool area, and when possible, we prop the outside doors open.
Between each class, we wipe down touch surfaces on the pool deck, such as ladder and bench handles. Outside the pool deck, we clean down handles and touch surfaces several times a day and deep clean the whole building several times a week.
We added seating to new locations to promote social distancing. The dive shop is also open to allow parents to watch from there if they wish.
They will be within 6 feet of the instructor and other classmates. We will still be using benches and hands-on contact with teachers. The teachers, however, will be wearing clear face shields. We will also be staggering the dependent and independent lanes as best as possible to keep children from grouping together.
Outside of the pool, we ask that all visitors and staff wear a type of face coverings.
In the pool, we will not ask students to wear face coverings.
Our staff will be teaching lessons in the pool with a clear face shield. This will take some getting used to for the staff and students. What we like about this is that it provides a barrier between the staff and student but still allows the student to see their teacher and their expressions. This is so very important, especially for our little ones, when they are working on water comfort and building trust in the water.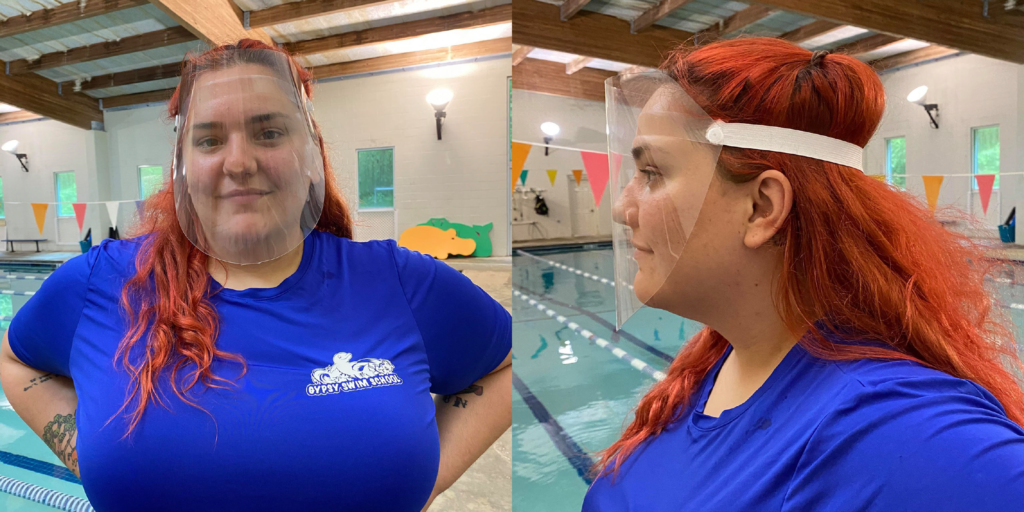 Example of our face shields to use during swim lessons
The occupancy of the swimming pool is 153 people. The occupancy of the swimmers' lounge and waiting room is 72 people. We do not anticipate our operations ever exceeding 50% of these numbers.
More specifically, for pools in Phase 2 states that the maximum number of swimmers is 10 per 1,000 square feet. Our pool is 75 feet by 40 feet, or 3,000 square feet, and classes will be spread out to keep classes within these specifications.
No. We do ask that either students, or their parents, take their temperature before visiting our facility.
Our staff is also required to take their temperature every day before beginning their shift. Anyone that shows signs of being sick, or high temperature, is not allowed to work and we will provide a substitute teacher.
Lap swimmers may use the pool when swim lessons are not using a majority of the pool. This is usually from 10 am to 3 pm. Please call ahead if you want to check the availability of the pool.